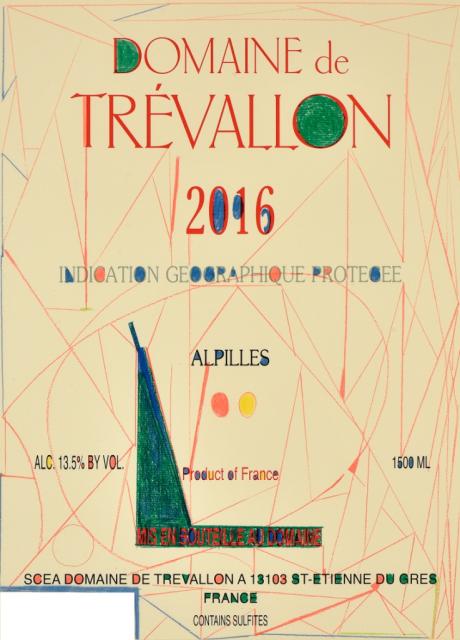 Trévallon is known for its long aging process, more than 2 years for its reds. Racking is kept to a strict minimum, the lees found at the bottom of the barrels continue to nourish the wine during the ageing process
The story
Trevallon's 40th vintage
The vintage
Unfortunately the wild boar came and they have never caused so much damage : 30% of the harvest. Liking the syrah more, they ate less of the cabernet sauvignon. Therefore, thanks to this natural deficit, the 2016's will be made up of 60% cabernet.
Terroir
Limestone and clay soil, very stony: Hauterivian et Barremian, second stage of the lower Cretaceous, less than 130 million years.
In the vineyard
Beginning of the harvest: 14 September
End of the harvest: 24 september
Vinification
No de-stemming, yeasting or sulphur. Agening 24 months in foudres and barrels. Fining with fresh egg white. No filtration before bottling
Varietals
Cabernet sauvignon : 60%
Syrah : 40%

Serving
I would serve it at 16°C and decant it to enhance its aromatic complexity.
Tasting notes
It's a wine which is very complex on the nose; star anise, licorice, wild blackberry, blackcurrant, cedar. The tannins are ripe and there is great freshness.

Food and wine pairings
Duck with cranberries, leg of lamb from les Alpilles with herbs from Provence.