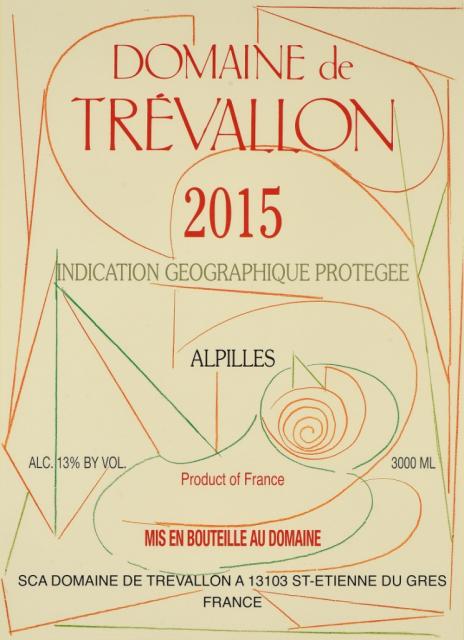 Trévallon is known for its long aging process, more than 2 years for its reds. Racking is kept to a strict minimum, the lees found at the bottom of the barrels continue to nourish the wine during the ageing process
The vintage
The harvest started 10 days earlier than 2014
Terroir
Limestone and clay soil, very stony: Hauterivian et Barremian, second stage of the lower Cretaceous, less than 130 million years.
In the vineyard
Beginning of the harvest: 14 September
End of the harvest: 24 september
Vinification
No de-stemming, yeasting or sulphur. Agening 24 months in foudres and barrels. Fining with fresh egg white. No filtration before bottling
Varietals
Cabernet sauvignon : 50%
Syrah : 50%

Serving
I would serve it at 16°C and decant it to enhance its aromatic complexity.
Tasting notes
The wine has a ruby colour with a purple hue, it is crystal clear and bright. The legs are fine and regular. The colour confirms the youthful appearance of the wine. The first smell is intense and seductive, revealing notes of cherries and fresh raspberries, and then nuances of cocoa and toasted hazelnuts. After some aeration the nose intensifies and you pick up spicy notes such as Timut pepper and cinnamon.
The palate, it is intense and balanced, the aromas are the same as the nose, accompanied by a touch of cherry brandy.
The tannins are present but silky and delicate. The freshness brings a spark and energy to the wine.
The finish is balanced, smooth and dynamic.

Food and wine pairings
I would accompany this wine with :
- roast partridge with cranberries, a reduction made with strawberry vinaigre and a puree of Jerusalem artichokes
-Trappe cheese with nut oil, crusty raisin bread and chutney made from medlars and mint.
- Warm chocolate tart, fig refreshed with a cinnamon sorbet and hazelnuts caramelized with half-salt caramel
Christine Lauffenburser