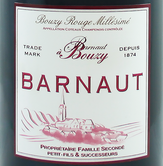 Very typical of the region, its development makes it a "Bouzy that will improve with age".
Roguish with a good snack of charcuterie, bourgeois accompanying all kinds of game, it
will be refined and eccentric with a red fruit tart, with which it'll open out liveliness and common aromas.
The story
Picked by hand from the vines halfway up the slopes, over 20 years old, the sunniest years. Search for the
greatest maturity. Selective screening on the bunch. Made entirely from Pinot Noir.
The vintage
After an "extremist" 2003 , the 2004 campaign took place smoothly, in perfect continuity climate particularly favorable to the vine and wine.
Despite a relatively dry start to the season , the vine has benefited of a rainy August . Water stocks have recovered . To conclude, a peaceful climate , without excess with rare and limited climatic accidents, drought began early and consistent with the thermal balance decade .
2004 vintage : This is too good ! Mildew had appeared at the end with the rains in mid -August and remained very localized attacks . Powdery mildew posed a little more problems.
The year was marked by big healthy grapes with record weight : 200 g for chardonnay and pinot black. Botrytis , sworn enemy , was not present this year. In conclusion on this vintage , a very mature and honorable crop. During this period, the sun entered the hearts and musts in tanks with a big and beautiful harvest.
Location
Grand Cru from terroirs of BOUZY
Terroir
Bouzy is a village of Grande Montagne de Reims, especially of the "Côte des Noirs (Coast of Blacks)" because stronghold of Pinot Noir.
On its slopes, vine grows on soils constituted of fragments of millstones, pebbles and sand mixed with clays of decalcification of millstones, resulting of runoff. Silts of the plate cover with a fertile coat the tops of hills, and old alluvium formed of sand, gravel and chalk pebbles.
It is well suited to the Champagne wine. Usually light in color, it provides in the day, in favor of the vine, a good reflection of the warmth and light. Rather thin, it is conducive to quality
The basement is chalk bélemnites upper Santonian (Campanian) and chalk micrasters Lower Senonian of the Marne.
Deposed by the seas of the end of the Mesozoic era, there was a few hundred million years the chalk of Cretaceous can go down to 200 meters deep. It absorbs heat and return it. She did the same with water to regulate the absorption by vines that plunges its roots up to 3-4 meters deep.
The climate is generally that of the Paris Basin, with generally mild winters, uncertain spring, hot summers and cool autumns but usually quite beautiful.
In the vineyard
Vines grown on the principle of sustainable viticulture, using organic fertilizers, natural weed and other techniques to preserve the best of nature. The old vines are no longer torn but maintained by inter-planting to preserve the diversity of genetic potential.
Vinification
Long maceration (over 10 days) to obtain a good ageing wine, "bled" before going into fermentation to increase the solid proportion
in maceration, thermoregulated fermentation at 22°C (+- 0.5°C), 2 or 3 years in vats before being bottled,
malolactic fermentation encouraged.
Varietals
Pinot Noir : 100%

Specifications
Alcohol content: 12.0% ABV

Serving
Uncork one hour before tasting. Serve at cellar temperature.
Tasting notes
Aspect : red, quite strong colour. - Bouquet : very ripe red fruits, slightly woody despite the absence of a cask. - Palate : clean, rich, both lively and full, fine tannins present yet discreet.
Food and wine pairings
Fromage frais (i.e fresh slabs), soft cheese with flowery rind like Brie and Camembert - Fish with red wine, fish with parsley - Raw meat, pâtés, meat with sauce, meat terrines, organ meats, cooked and cured meats, poultry with sauce, grilled meat, pork. Desserts with fruit base.

Find our wines
Champagne BARNAUT
On www.champagne-barnaut-bouzy.com, or at Bouzy in our "boutique cellar" in which we like to welcome you for discovering and tasting our production of Champagnes and Coteaux Champenois (Bouzy Rouge and Clos Barnaut Bouzy Rosé). You will also find a wide selection of Champagne alcohols, regional food products and goods for œnophiles. Austria Mickael KLONFAR - La Cave Bacherplatz 12, A-1050 Wien Tel.+Fax: 5447383 vinotek@lacave.at Belgique LES CHAMPS FULLIOTS 12 Rue de Henri-Chapelle - 4651 BATTICE (+32) 87 66 12 26 L'ACCORD PARFAIT EPICERIE FINE Grand Route n°14 - 1435 MONT SAINT GUIBERT (+32) 10 65 62 96 http://www.laccordparfait.be e-contact Wijnhandel LOOTENS De Donckerstraat 1 - 8470 GISTEL (+32) 59 27 75 20 https://www.facebook.com/WijnhandelLootens Brasil DECANTER VINHOS FINOS Ltda. Avenida Brasil 630, Ponta Aguda - 89050 BLUMENAU - SC (+55) 47 3326 0111 http://www.decanter.com.br Québec SOCIETE DES ALCOOLS DU QUEBEC 905 Avenue de Lorimier - H2K 3V9 MONTREAL (+1) 514 254 2711 https://www.saq.com La QV 5679 rue Fullum - QC H2G 2H6 MONTREAL (+1) 514 504 5082 http://www.laqv.ca info@laqv.ca česká Republika LE CAVEAU BROZ & FEUERSTEIN S. Pod Strasnickou Vinici 30 - 10000 PRAHA 10 (+420) 777 164 083 http://www.broz-d.cz lecaveau@broz-d.cz HOUSE OF CHAMPAGNE (KREKOM S.R.O.) Stefanikova 43a - 15000 PRAHA 5 (+420) 241 485 033 http://www.champagne-house.cz order@champagne-shop.cz Deutschland ASSEMBLAGE WEINIMPORT Fridtjof Nansen Str. 10 - 45131 ESSEN (+49) 201 959 88 12 http://www.assemblage-weine.de e-contact WEINHAUS LESMEISTER Pontstrasse 60 - 52062 AACHEN (+49) 241 40 49 32 http://www.weinhaus-lesmeister.de kontakt@weinhaus-lesmeister.de Danmark COMPAGNIET Aasvej 3 Jersie Landsby - 2680 SOLROED STRAND (+45) 23 43 67 89 http://www.compagniet.dk helge@compagniet.dk España CELLER DEL CAVA Galileo 238 - 8224 TERRASSA (+34) 93 789 29 88 http://www.cellerdelcava.com e-contact La Part dels Angels (Barcelona) Carrer d'Enric Granados, 26, 08008 Barcelona, Espagne +34 936 53 70 16 www.lapartdelsangels.com Vino Singulares Barrio Arane 8B, Aptdo.: 198 48300 Gernika-Lumo info@vinosingulares.com Italia COMPTOIR DE FRANCE Via Giovanni Vitelleschi, 20-24 - 193 ROMA (+39) 06 68 30 15 16 http://comptoirdefrance.com e-contact COVA Montenapoleone Via Montenapoleone 8- 20121 MILANO (+39) 02 76 00 55 99 http://pasticceriacova.it info@pasticceriacova.it ERREFOOD Via PARADIGNA 169 - 43122 PARMA (+39) 05 21 77 43 02 http://www.noidaparma.it info@noidaparma.it I.T.C. Via dei Lanaioli 24 - 26100 CREMONA (+39) 372 324 95 ENOTECA L'ISOLA DI SARAIS Paolo Sarpi 30 - 20154 MILANO (+39) 02 3315 249 https://www.facebook.com/CantineIsola cantineisola@gmail.com ENOTECA LA MIA CANTINA Piazzale S. Croce 21 - 35123 PADOVA (+39) 049 8804 083 http://www.lamiacantina.it info@lamiacantina.it GASTRONOMIA GUALDONI La Vacca d'Oro Via Umberto1 n°39 - 20020 ROBECCHETTO CON INDUNO (+39) 0331 875 397 http://www.lavaccadoro.it info@lavaccadoro.it Enoteca Massimo LOMBARDI Vicolo Monte Ariolo 4a - 28100 NOVARA (+39) 0321 35 815 L.M.F TRADE Via Shylletion n° 51 - 88021 BORGIA (+39) 327 189 42 66 http://www.lmftrade.biz info@lmftrade.biz LUCHIN Via Bighetti 51/53 - 16043 CHIAVARI (+39) 01 85 30 10 63 http://www.luchin.it MILANO VINO Via Savona 7 - 20144 MILANO (+39) 02 83 66 06 13 http://milanovino.it m.dollfus@milanovino.it VINOTECA AL CHIANTI, Selezione FORMIGLI Via Cassia 2 -Loc. Bottai - 50023IMPRUNETA (+39) 55 23 73 267 http://www.vinotecaalchianti.it info@vinotecaalchianti.it VINOTECA SOLA Piazza Colombo 13 R - 16121 GENOVA MOLASSANA (+39) 01 0 56 13 29 http://www.vinotecasola.it info@vinotecasola.it VINO VINO Corso San Gottardo 13 - 20136 MILANO (+39) 02 58 10 12 39 http://www.vinovinomilano.it info@vinovinomilano.it Magyarország BORGURU - Proforg Consulting Szasz Károly u. 2. II/12. - 1027 BUDAPEST (+36) 70 391 96000 http://www.borguru.com webshop@borguru.com Nederland BOLOMEY Wijnimport Kanaalstraat 25 HS - 1054 WZ AMSTERDAM (+31) 020 422 3098 http://www.bolomey.nl info@bolomey.nl Hans MOOLENAAR Wijnkoperij Zomerzorgerlaan26 - 2061 CX BLOEMENDAAL (+31) 023 525 77 39 http://www.hansmoolenaar.nl e-contact Österreich VINOTHEK LA CAVE Bacherplatz 12 - 1050 WIEN (+43) 1 544 73 83 http://www.lacave.at contact@lacave.at Polska TREZOR WINES - Winelovers Ul. Warszawska147 - 25547 KIELCE (+48) 41 330 38 72 http://winelovers.com.pl bok@trezorwines.pl Slovenija BOTILA d.o.o Blaž Suhač Štula 4, 1210 Ljubljana-Šentvid, Slovenija +386 41 365 530 blaz@botila.eu Switzerland DENZ WEINE Buckhauserstrasse 28 - 8048 ZÜRICH (+41) 44 262 07 08 http://www.denzweine.ch info@denzweine.ch United Kingdom LEA & SANDEMAN 170 Fulham Road - SW10 LONDON (+44) 20 7244 05 22 Head office : 020 7244 0522 http://www.leaandsandeman.co.uk Chelsea@leaandsandeman.co.uk U.S.A. VINTAGE' 59 IMPORTS (all U.S.A.) 2800 Jenifer Street - 20015 WASHINGTON DC (+1) 202 966 9218 https://www.vintage59.com info@vintage59.com 日本 BONILI JAPAN 〒662-0047 兵庫県西宮市寿町4-32 4-32 Kotobuki-Cho Nishinomiya-Ci - 662-0047 HYOGO (+81) 0798/ 39 1700 http://www.bonili.com bonilijp@bonili.com
› www.champagne-barnaut-bouzy.com